Let's face it; nobody wants to replace their roof. Not only is it a pretty expensive endeavor, but the process can be messy and annoying. That's why homeowners need to make an effort to keep their roof in great shape to avoid unnecessary repairs and replacements, and the best way of doing so is by doing regular roof washing. Professional roof washing is a low pressure process that removes algae, moss, mildew, lichens, and stains from roofs, without causing unwanted damage. This leaves the roof looking like new again.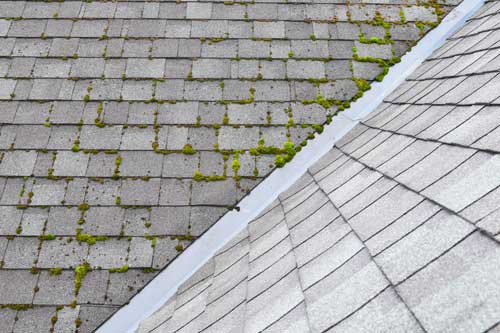 Residential Roof Washing Services
At Wild West Softwash, we understand the importance of regular roof maintenance. That's why we offer residential roof washing services to help homeowners keep their roof in pristine condition and avoid costly repairs and replacement. Our friendly staff has been trained to safely and efficiently wash all types of roofs. At Wild West Softwash, we also know that a roof is one of the largest investments one can make, and that's why we take all the necessary precautions when washing our clients' roofs to ensure that their investments are safe. For instance, we use a softwash process that involves the use of low pressure and a blend of eco-friendly detergents to safely remove algae, moss, lichens, and stains from roofs and sidings.
The Benefits of a Roof Washing Service
A dirty roof not only looks ugly, but it also shortens the life of the roof. The dirt is composed of bacteria and fungus which slowly eat away the roofing material, exposing it to water damage and rot. Professional roof washing can prolong roof life and keep it looking beautiful. It can also add to the curb appeal of a home and increase its value.
High Quality and Affordable Services.
With our state-of-the-art equipment and attention to detail, our clients can expect high-quality services that meet or exceeds their expectations
Contact us now to get free estimates of all our washing services.